Regular meeetings
We meet at 2pm on the second Wednesday in the month in Bamburgh Pavilion.
A number of Bamburgh W I members celebrating the 95th birthday of their institute and the installation of their 5th Bamburgh village seat.
In 1953 the institute presented a seat to the village to commemorate the Queen's Coronation, sixty years later the seat has been replaced to commemorate our Queen's Jubilee.
The original seat was made from the teak timbers off a ship the S.S. Atlantic by a firm of ship breakers, Hughes and Bolckow of Blyth.
This ship was possibly a vessel that sank in 1873 under the flag of the White Star Line, the same line as the Titanic. The W I has retained a plaque made from the seat structure and holding a registration plate of the brokers and a copper plaque celebration the Coronation as it is felt to be of historic interest.
For More Information you can Contact the Bamburgh WI Secretary on Tel: 01668 214429‬
Our President, Christine Hutchinson, opened the February meeting, and gave a special welcome to Chris, Debbie and Anita, our three visitors.
We had received invitations from Alnmouth WI to a Winter Warmer Lunch, and from Shilbottle WI to a Quiz Night. There would also be a County Domino Drive at Stannington in April.
Our Village Quiz will be in the Castle Inn on 27th February at 7.30, and our monthly lunch will be at the Salt Water Café at Beadnell on 16th February.
Preliminary details were given about our 100th Birthday which is on 5th October, 2018, any suggestions regarding entertainment would be gratefully received.
Outings are planned for July and September and any suggestions for September would be helpful.
Christine then welcomed our speaker, Andrew Bardgett, who talked about gliding. This has been a hoppy of Andrew's for many years and it was a delight to hear of his experiences. His talk was illustrated with photographs, and it was wonderful to see some great shots of our beautiful county.
The competition was won by Jean Sinton and the raffle by Gill Bardgett.
Our next meeting will be on 8th March when Martin Spruce will demonstrate how to use the defibrillator which is on the Pavilion wall. As this is extremely important we are making this an Open Meeting and everyone is welcome.
The Programme of Events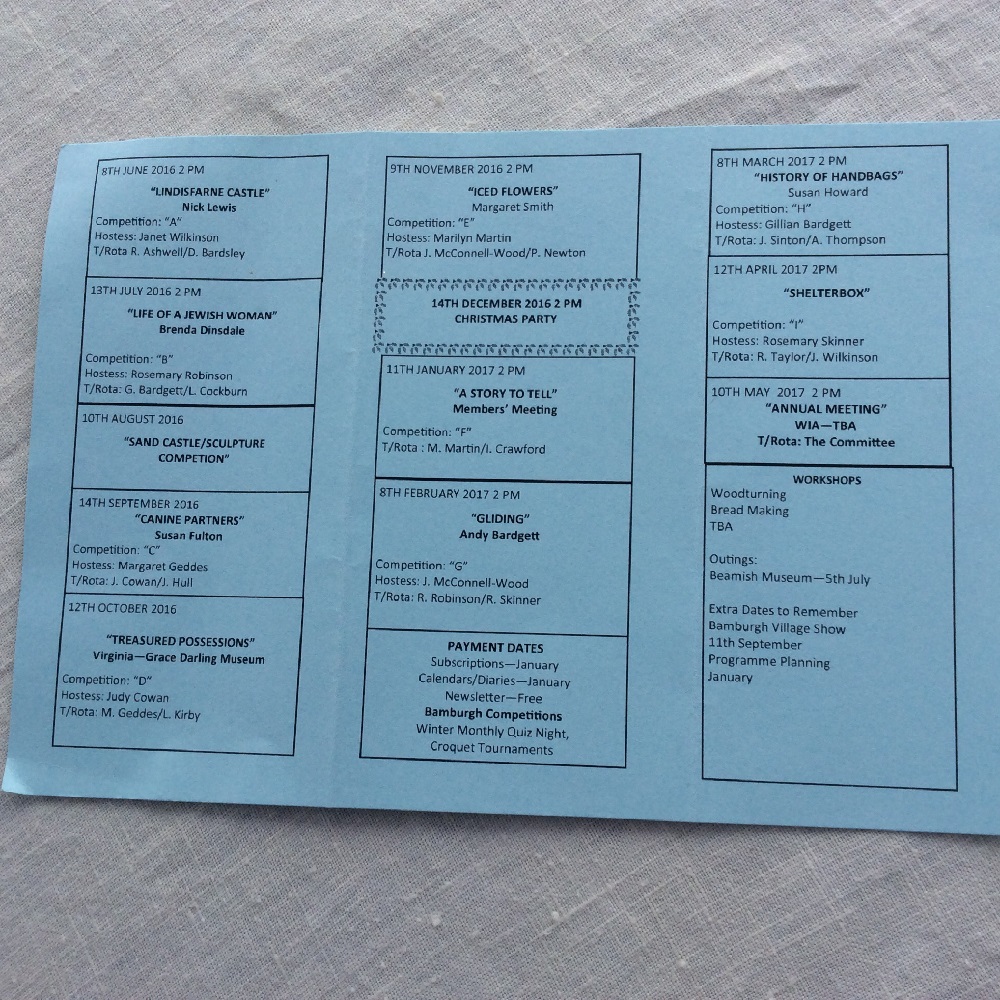 The Lunch Club on Tuesday March 22nd will be at 'Sea and Soil' Amble. The date for the trip to Beamish had been decided for July 5th and Travelsure have coaches available for that date.
North Sunderland/Seahouses and Belford are to be asked if they would like to join us.
The speaker for the April meeting had to be changed and we will have the Curator of the Grace Darling museum Virginia who will be giving a talk on 'How to Take Care of Your Precious Possessions'.
All those attending have been asked to bring with them ONE precious possession and give a brief description on why the item is special to them.
The members competition will be A Favourite Family recipe. The speaker for the afternoon Harold Dobson had been waiting patiently to tell us all about the Red Kite introduction into Northumberland and we spent a fascinating hour seeing some wonderful slides and hearing all about this magnificent bird that has a great liking for white items pegged on a washing line!
We are hoping to see more of Harold and the wonderful mosaic of the Red Kite when we hold our Sand sculpture Challenge in 2017. Visitors are very welcome to join us at our next meeting and don't forget to bring along a treasured possession!
Bamburgh WI 2011 - Sand Sculpture Challenge
It was standing room only when members from many Northumberland institutes gathered to hear who had won the Sand sculpture trophy for this year's challenge 'THE HUMAN FORM'. Once again Hedgeley came out top pipping other institutes to the post by a very small margin as the judge, Derek Mallinson, said there were many sculptures he could have chosen in a less competitive field.
Once again Bamburgh was lucky with the weather and all the competitors enjoyed the cut and thrust of the competition with sand flying as huge mounds were dug and shaped into some incredible human forms. Institutes experiencing their first sand sculpture challenge thoroughly enjoyed the event and declared they were very much looking forward to entering again.
See videos of the event below.
Noreen Birnie, Betty Ashworth, Anthea Jackson and Joanna English working on their "Human Form" winning sculpture for Hedgeley WI
Beatrice Ede, Mary Leycock, and dual presidents Janet Gray and Josie Smeaton from Doddington WI
Eglingham WI with their sunbathing beauty, obviously on a naturist beach!
Marian Chivers, Di Bell, Diana Mills and Audrey Wiggins from Longhorsley WI. Was it praying to the sun God!
The Hedgeley winners once again, finishing off their amazing sculpture.