Regular meeetings
We meet at 2pm on the second Wednesday in the month in Bamburgh Pavilion.
A number of Bamburgh W I members celebrating the 95th birthday of their institute and the installation of their 5th Bamburgh village seat.
In 1953 the institute presented a seat to the village to commemorate the Queen's Coronation, sixty years later the seat has been replaced to commemorate our Queen's Jubilee.
The original seat was made from the teak timbers off a ship the S.S. Atlantic by a firm of ship breakers, Hughes and Bolckow of Blyth.
This ship was possibly a vessel that sank in 1873 under the flag of the White Star Line, the same line as the Titanic. The W I has retained a plaque made from the seat structure and holding a registration plate of the brokers and a copper plaque celebration the Coronation as it is felt to be of historic interest.
For More Information you can Contact the Bamburgh WI Secretary on Tel: 01668 214429‬
We welcomed visitors from Craster, Embleton, Howick and North Sunderland/Seahouses W.Is to our April Meeting.
The speaker this month was Mr Peter Tracey, a representative from the charity 'Shelterbox'. This is a charity which has been going for over twenty years, and is based in Helston, Cornwall. The format of this is to help people throughout the world during the first few weeks of a disaster. This can be caused by conflict, floods, earthquakes, fires and hurricanes. Inside the shelterbox are various items which people need after being devastated. These include a 12 man tent, cooking pots, blankets, mosquito nets, water filtering kit, childrens colouring books, a cooking stove and various other items. Each box costs £600 and they can be in the air within 12 hours of a call for help coming through.
During our business meeting we heard of County events which include a Northumberland Food Demostration, Knitting and Crochet Days, a Quiz Night. A Teddy Bears Picnic and a Book Lovers Tea Party. Our lunch club will be at the White Swan at Warenford, and we were reminded of the Lindisfarne Group Meeting.
Our next meeting, which is our Annual Meeting will be on 10th May in Bamburgh Pavilion.
The Programme of Events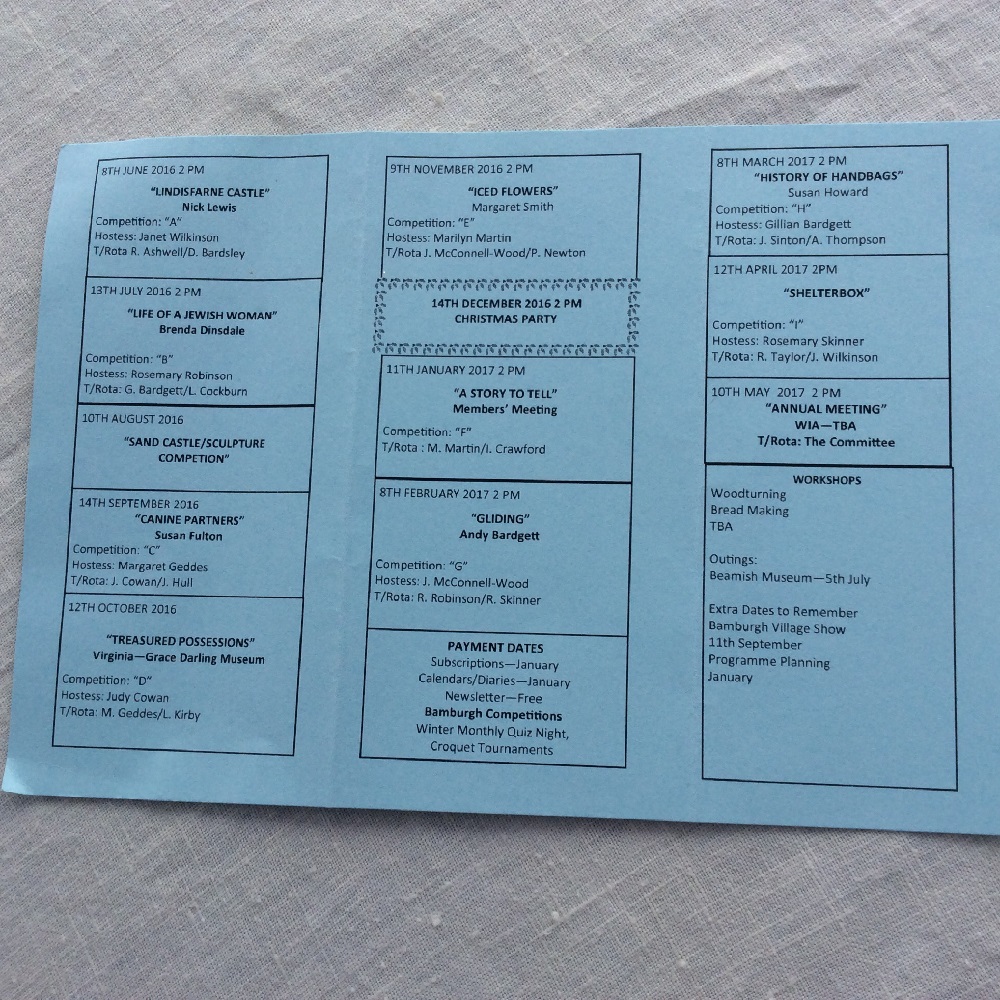 Bamburgh WI 2011 - Sand Sculpture Challenge
It was standing room only when members from many Northumberland institutes gathered to hear who had won the Sand sculpture trophy for this year's challenge 'THE HUMAN FORM'. Once again Hedgeley came out top pipping other institutes to the post by a very small margin as the judge, Derek Mallinson, said there were many sculptures he could have chosen in a less competitive field.
Once again Bamburgh was lucky with the weather and all the competitors enjoyed the cut and thrust of the competition with sand flying as huge mounds were dug and shaped into some incredible human forms. Institutes experiencing their first sand sculpture challenge thoroughly enjoyed the event and declared they were very much looking forward to entering again.
See videos of the event below.
Noreen Birnie, Betty Ashworth, Anthea Jackson and Joanna English working on their "Human Form" winning sculpture for Hedgeley WI
Beatrice Ede, Mary Leycock, and dual presidents Janet Gray and Josie Smeaton from Doddington WI
Eglingham WI with their sunbathing beauty, obviously on a naturist beach!
Marian Chivers, Di Bell, Diana Mills and Audrey Wiggins from Longhorsley WI. Was it praying to the sun God!
The Hedgeley winners once again, finishing off their amazing sculpture.